Description
Solitude II Urns – These wood urns are hand-crafted by local craftsmen in southeastern Minnesota. They are made of genuine hard-woods and have a high quality lacquer finish.
Solid wood colored to represent Oak, Dark Oak, Walnut and Cherry. Due to natural inconsistencies in wood color, there may be some differences in color between your urn and those pictured in the catalog.
Add a photo frame for $2.50.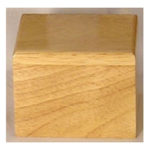 X-Small – $31.60
Good for any family pet that is 10 lbs
Measurements of the urn are 4 x 3-1/4 x 3 inches (L x W x H)
Small – $39.50
Good for any family pet that is 25 lbs
Measurements of the urn are 5 x 4 x 3-3/4 inches (L x W x H)
Medium – $46.00
Good for any family pet that is 50 lbs
Measurements of the urn are 7 x 5 x 4 inches (L x W x H)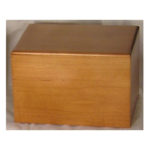 Large – $59.25
Good for any family pet that is 100 lbs
Measurements of the urn are 7-1/2 x 5-1/2 x 5 inches (L x W x H)
X-Large – $70.75
Good for any family pet that is 140 lbs
Measurements of the urn are 8 x 6 x 5-3/8 inches (L x W x H)
THIS PRODUCT WILL BE DISCONTINUED. SUPPLIES LIMITED
---